About UHB
Hokkaido Cultural Broadcasting Co., Ltd.(UHB)
is one of the Japanese TV stations of the Fuji Television Network Inc.,
located in Sapporo-city, Hokkaido-Pref., the northern part of Japan.
Company Profile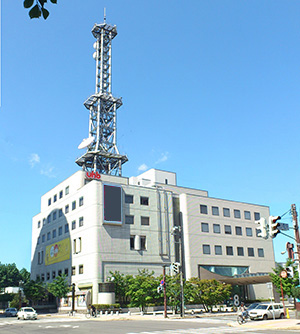 Company Profile
Hokkaido Cultural Broadcasting Co., Ltd. (UHB)
Headquarters
1-5, Nishi 14, Kita 1, Chuo-ku, Sapporo, 060-8527, JAPAN
URL: https://uhb.jp
Corporate Data
Representative
President Toru Tsurui
Date of Foundation
June 24, 1971
Date of Launch
April 1, 1972
Capital
500 million yen
Major Stockholders
The Hokkaido Shimbun Press Co., Ltd.
Fuji Television Network Inc.,
Number of Employees
157 (As of July 1, 2023)
Financial Data
FY 2022 (Unit: Million yen) 9,701
Subsidiaries
Top Creation Co., Ltd.
Autec Co., Ltd.
Board Members and Auditors
| | |
| --- | --- |
| President | Toru Tsurui |
| Senior Executive Managing Director | Kazutoshi Matsumura |
| Executive Director | Ririo Okuda |
| Member of Board | Fumiyuki Yoshioka |
| Member of Board | Hirotaka Yokoyama |
| Member of Board | Takashi Nakagawa |
| Member of Board | Shigenari Suzuki |
| Member of Board | Takumi Kobayashi |
| Auditor | Shin Yamada |
Contents Sales / Co-Productions
We broadcast many types of TV programs that are both available in domestic and abroad.
▷Program Catalogue

Also, we have done over 10 co-productions with over 10 foreign TV stations since 2013.
There are two types of co-productions.
1.Governmetnal Sponsorship
The project is supported by Japanese Government.
They focus on how the project is influenced to increase foreign tourists in Japan.
We need to pass the proposal by Japanese Government.
After that, we can start working such as choosing location and media partner.
2.Finding Sponsorship For Project
To run the project, each of us are responsible to find the sponsors to cover the fee.
Contact
If you have any questions, please feel free to ask us through email below.
ask@uhb.co.jp